email signup
Sign up for hire & camping shop specials offers, campsite tips & news
user pic of the month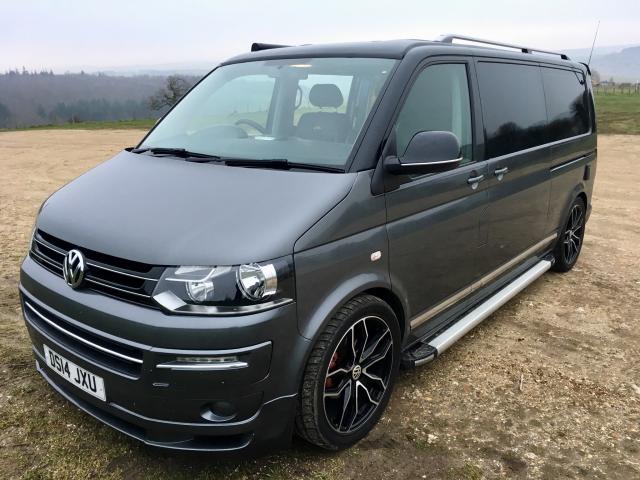 The Trundle Goodwood
campsite of the month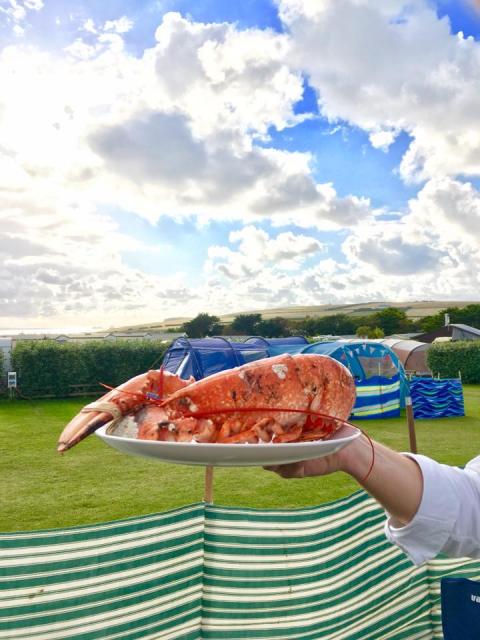 Mother Ivey's Bay Campsite near Padstow
This is how we equip the vehicles and some ideas for storage etc.
Crockery is fairly easy, sell handled large washing bowl in various colours and fill this with the plates, bowls, side plates cups and mugs, it is handy to take straight up to the washing area in campsites to just wash and return, this is stored on the lowest shelf under the sink. We use a cutlery wallet and then the draw for all the extras, tin opener, bottle opener etc. The next shelf up we store the kettle/flask/cafeteria/tea/coffee/sugar and a spice tin, this is a really nice kit that can be refilled – http://campervantastic.com/product.php?prod=694&cat=5 some people raise this shelf up to put a porta potti on board, the Brandrup porta potti comes with tray and strap to securely fit there.

We keep pans etc in the next cupboard along on the bottom shelf leaving the top shelf for food store. Most of the general items cooking related can be found under Camp life essentials in our shop, the 2.3 litre kettle fits perfectly under the sink and boils enough water for everyone to have a cuppa together. We don't use Brandrup pans for hire but they are top end quality pans that all lock and go into one pan. For noise control, there are various cup holders for people who like pottery not melamine cups, Brandrup do a plate holder and a pan safe for the fry pan.

Cleaning – we put washing liquid, spray cleaner, cloth, sponge and brush into the small plastic bowl in the sink, most cleaning will be done in the services on site.

The drawer under the seat is where we put things that will get wet and muddy like level ups, the hook-up cable, we also add a dustpan and brush, some pegs and clothes line, bulb and fuse kit, a single back up cooker, what about something like this - http://campervantastic.com/product.php?prod=865&cat=5 should be fine on a table with care, you could store a heat protection sheet in the cupboard to put underneath if worried. We use something a little simpler like this http://campervantastic.com/product.php?prod=639&cat=5

Bedding, we use inexpensive mattress protector and fitted sheet on the top, can be left on and roof brought down, we do use the 2.5cm Duvalay on the bottom bed, this is because the bottom bed is quite firm and the mattress can be easily flip flop folded to sit in the back without taking up too much space. The sleep systems with the quilt are good, but obviously a lot more bulkier. Brandrup do nice quality fitted sheets for the top bed but you will find with Brandrup that they are pricey.

We sell the Cobbs and they are brilliant, they do a lot more than just cook sausages and burgers and anyone who has one praises them highly. The outer body stays cool to the touch so can cook on table tops or grass, everything is easily cleaned and all stores in a bag. The hairy bikers use them so they must be good! Check out this video http://www.youtube.com/watch?v=Cio6obL7hWg

Water filling, buy a filling pipe http://campervantastic.com/product.php?prod=164&cat=22 for filling the tank from stand taps (we store this under shelf where gas bottle is) then any water container can be used to store on the go, Brandrup have some containers with filling pipes but there is no real need to spend this as a roll away water carrier might be better as it rolls away compact

Anything else – well we put a fire extinguisher (you have this fitted) and fire blanket in every van, we also put a travel adapter - http://campervantastic.com/product.php?prod=251&cat=25 in every van to use the leisure batteries for low level equipment (mobiles/laptops) without this you have no 3 pin socket when you are not on hook-up.

For storage - Brandrup have it covered, but also look at the Thule pack boxes these go flat when not in use http://campervantastic.com/product.php?prod=836&cat=29 you can fit two in under the parcel shelf. There is also bags that fit to the bike rack with two bikes, bars and surf carriers, your roof can lift 50kgs so you can raise the roof without taking equipment off.

Security – a locking wheel bolt for your spare.

EU travelling – headlight protectors/deflectors, EU hook up adapters, Hi Vis Vests, and extra waning triangle for Spain, the ACSI discount card and book for massive discounts out of season camping in Europe, High season is only 6 weeks.

Extreme weather – Isolites for windows, covers from roof and covers for storage.

And then there is extra space – awnings and sun canopies...
Our facebook has a lot of good tips and check out http://thevwcalifonia.com for other good tips.
---
---